Japanese Goods introduces Japaenese traditional items and Japanese culture to abroad. Mainly traditions, and plus a little trend culture, sometimes deep affections of people in Japan.
Why do I introduce the
traditional culture of Japan?
From one hundred and fifty years ago, people in Japan started to pursue more and more wealth.
But we have already known that all the wealth stands upon communal resources, and it has the end.
Little by little, people in Japan have to change the lifestyle and the concept of values.
Only a hundred years ago, we had no high-tech items, but had overflowing joys as well as today.
To know traditions is to recognize the past values and the past wisdoms again. I believe that it will help you and us to brush up own lives more brilliant.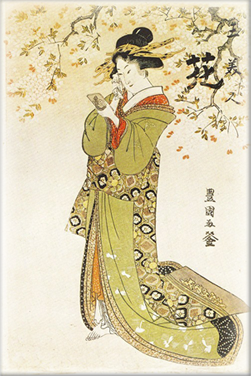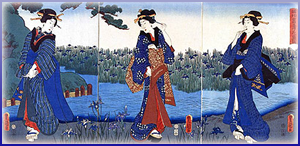 KIMONO

Japanese Traditional Clothes
Kimono is traditional clothes
in Japan, and even today a variety of fabrics with wonderful designs are produced in every regions in Japan. There is no button, made up from simple
cloths, and just held with a sash/belt named "Obi".
You can simply fling it on without an obi, because the texture on the back fabric of the dress is as pleasant as using for a gown. Or just diplay a kimono on your living room. The traditional clothes has wonderful designs including Japanese unique patterns
and seasonal symbols. It will become an established decoration of your room.
You can learn Japanese clothes more:
Top Page Attraction and Features of Kimono
How to select, when you purchase the one.
How to wear a kimono, Top page
How to use accessories, Top page
Shortcut to the directions:
How to wear a kimono, Direction
How to tie an obi
How to tie "Taiko Musubi"
How to fold a kimono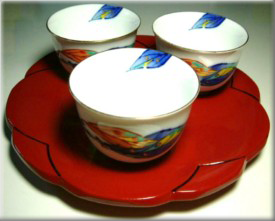 CERAMICS

Pottery and porcelian in Japan
Some Japanese ceramics are decorative, some are polished, and some are earthy. There are various types of ceramics in Japan with numerous potteries. All the production areas have their traditions, and continue to make large efforts to improve their ceramics.
Some of them are influenced from Sado, some are pursuiting own art, some are trying to revive the past works. One thing we can surely to say is that Japanese people love to make or use ceramics, often specially.
You can learn Japanese ceramics more:
Top Page Attraction and Features of Japanese pottery and porcelain.
Overview of Japanese ceramics Using Japanese ceramics
Imari / Arita porcelain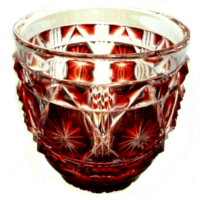 Pick up Items

Glass wares in Japan, etc.
Japanese people love own traditinal culture and traditional crafts, so in Japan numberless traditional craftworks continue to exist, such as lacquer wares, glass wares, bamboo wares, wood works, metal works, dolls, etc. We would like to pick up each item and explain its attractons. Now, we have two glass wares' pages for Satsuma Kiriko and Ryukyu Glass.